La fête des mères se fêtait hier en Belgique, aux Pays-Bas et dans la plupart des pays du monde. Anita et moi avons décidé de regrouper notre talent pour réaliser un superbe kit pour cet occasion. Voici notre nouveau kit « M is for Mom », un kit très complet et très colorés qui se prêtera à toute vos pages de scrap y compris les autres que celles de la fête des mères. Vous le trouverez chez Digital-Créa et Mscraps.
Mother's Day was celebrated yesterday in Belgium, the Netherlands and in most countries of the world. Anita and I have decided to combine our talents to make a great kit for this occasion. Here's our new kit « M is for Mom », a very compleet and colorful kit that lends itself to all your scrapbooking pages including other than Mother's Day. You'll find it at Digital-Crea and Mscraps.

sale price 3.98 € | regular price 5.30 €
Et pour tout achat du kit, vous recevez ce pack de journaling cards coordonées avec le kit.
And for every purchase of the kit, you get this pack journaling cards coordinates with the kit.
Voici quelques pages d'inspiration de mon équipe créative!
Here you will find some inspiration of my creative team !
Voici une page faite avec ma petite fille lors d'une balade l'été dernier.
I've also made a layout with my bundle.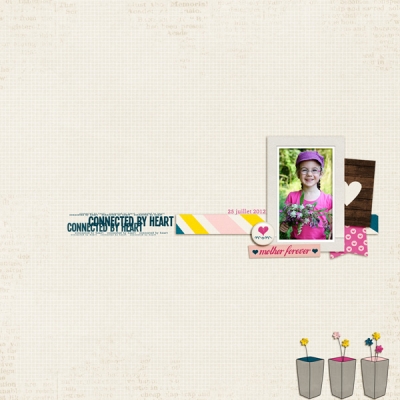 Je remercie toutes les personnes pour leur participation au challenge. Ce petit challenge m'a également bien amusé. Il est temps maintenant de vous annoncer la gagnante de ce challenge qui remporte 2 coupons de 6.00 € un dans la boutique d'Anita et un dans ma boutique.
I thank everyone for their participation in the challenge. This little challenge was also great fun to me. It is now time to announce the winner of this challenge which win two coupons of 6.00 € the first one in the shop of Anita and the second one in my shop.
Et la gagnante est…
And the winner is….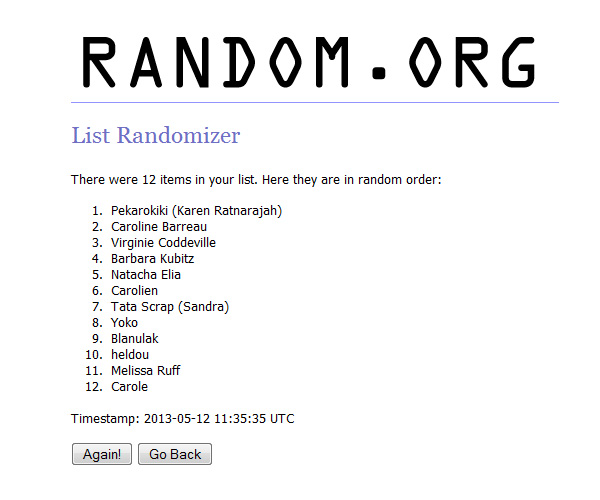 Passez un excellent dimanche !!!
Bonjour à toutes,
J'espère que vous avez toutes bien profitées du soleil mais surtout de INSD ?
Pour prolonger un peu la fête du scrapbooking, Anita et moi avons décidés de faire un challenge ensemble… Nous souhaitions un jeu de devinettes…
Alors, ça vous intéresse de gagner des bons d'achats ?
Hello to all,
I hope you all well taken advantage of the sun but mostly INSD?
To extend a little the scrapbooking party, Anita and I have decided to set a challenge … We wanted a guessing game …
So, are you interested to earn some coupons?
INSTRUCTIONS:
- Voici 16 aperçus de produits d'Anita et moi-même
Visitez nos boutiques et voyez si vous pouvez retrouver quelle image appartient à quel produit !
Anita Designs + Scooty's Designs
- Lorsque vous avez devinez tous les aperçus, listez les comme ceci:
1. Titre du produits + nom de la designer
- Envoyez un mail avec la liste complète
à scootysdesigns@wamby.be ET à anita.van.straeten@gmail.com
pour recevoir un bon d'achat de 3.00 € de chacune d'entre nous.
(Seulement si vous avez trouvé la liste complète)
- Tous les joueurs seront repris dans un tirage au sort pour gagner
un bon d'achat supplémentaire de 6.00 € d'Anita et également 6.00 € de moi-même
- Ce challenge se termine le SAMEDI 11 MAI à 20h00 (GMT+2)
et nous annoncerons les gagnants samedi soir !
- Les coupons seront envoyés le dimanche 12 mai.
INSTRUCTIONS:
- You see 16 close-ups of products from Scooty and me…
Visit our shops and see if you can find wich picture is wich product !!
Anita Designs + Scooty's Designs
- When you have guessed all the close-ups, list them: 1. Title of the products + Designer name
- Email your list to anita.van.straeten@gmail.com to recieve an €3 coupon
and email it also to scootysdesigns@wamby.be to recieve another €3 coupon.
(that's if you have the list correct)
- All players will be entered for a random drawing to win an extra coupon of €6 by Scooty and €6 by me.
- This challenge will end at SATURDAY | MAY 11th at 08.00 pm (GMT+2)
and we announce the winners Saturday evening !
- We will sent all coupons at Sunday may 12.
Bonne chance à toutes et bon amusement avec ce défi !
We wish you goodluck and lot's of fun with this challenge !
Scooty & Anita
Durant ces jours d'INSD (InterNational Scrapbooking Day), vous trouverez chez Digital-Créa une réduction de 40% sur une sélection de produits. Je ne vous dis qu'une seule chose, foncez-y et faites vous plaisir !
During these days of INSD (InterNational Scrapbooking Day) you will find at Digital Crea 40% off on selected products. I will tell you one thing, go for it and enjoy!
Je vous offre également 2 freebies. Le premier se trouve dans ma newsletter. Et si vous n'êtes pas abonnés, courrez vite vous inscrire pour le recevoir.
I also offer you two freebies. The first is in my newsletter. And if you've not subscribed, run quickly to register and to receive it.
Le deuxième, vous le trouverez sur ma fanpage. « Aime » ma page pour le télécharger.
The second one, you will find it on my fanpage. « Like » my page to download it.
Je vous remercie toutes pour votre soutien et à très bientôt !
Thank you all for your support and see you soon!
Scooty.
Voici mon nouveau produit « Eternal », un pack complet qui regroupe un minikit, un pack de journaling cards, un pack de boutons ainsi que des templates. Il est aux couleurs très printanières et permets de scrapper n'importe qu'elle type de page de scrap, que ce soit en traditionnel ou en clean & simple. Vous le trouverez à un prix très attractif durant les jours INSD chez Digital-Créa.
Here is my new product « Eternal », a complete package that includes a mini-kit, a pack of journaling cards, a pack of buttons and also a pack of templates. It's a pack with spring colors and allow it to scrap any type of scrapbook page, whether traditional or clean & simple. You'll find it at a very attractive price during INSD days at Digital Crea.

Voici quelques pages d'inspiration de mon équipe créative!
Here you will find some inspiration of my creative team !
J'ai également fait une petite page avec mon bundle.
I've also made a layout with my bundle.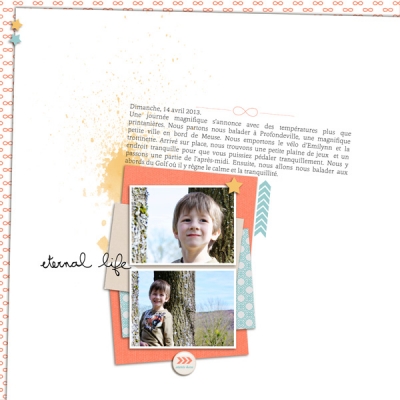 C'est avec beaucoup d'hésitation que je me suis finalement décidée de faire également un project life cette année. Comme j'avais déjà accumulé beaucoup de retard, j'ai choisi de le faire par mois cette année et non plus par semaine comme l'année dernière (je dois d'ailleurs encore le terminer…). Voici mes premières pages pour les mois de janvier et février.
It is with great reluctance that I finally decided to also make a project life this year. As I had a huge backlog, I chose to do it by month this year and not by week like last year (I have also to finish it yet…). Here are my first pages for the months of January and February.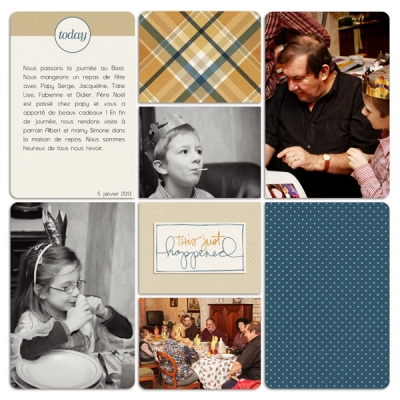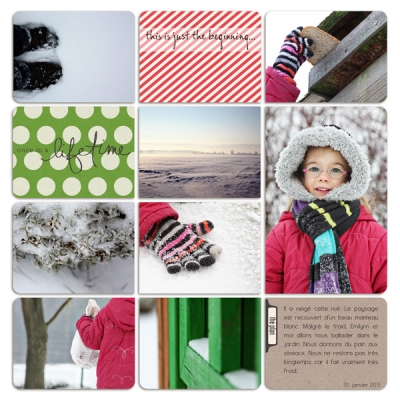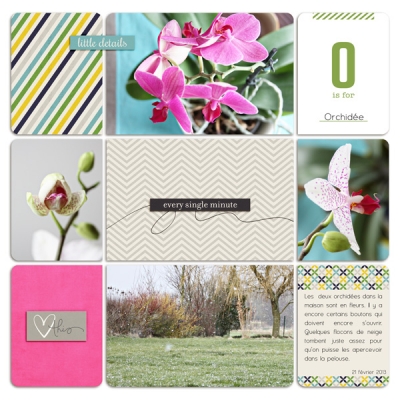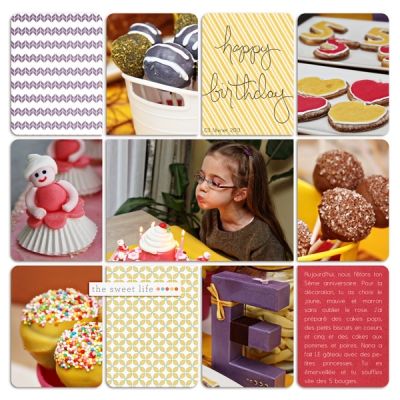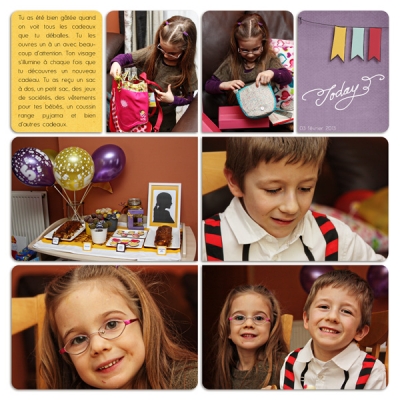 Bonne soirée à vous toutes !
Have a great evening !
Je suis de très bonne humeur et mon moral va beaucoup mieux ! Le soleil, je dirais « Le Printemps » est enfin arrivé chez nous et cela fait énormément de bien. J'espère que tout comme moi vous avez bien profité de ce magnifique dimanche ensoleillé !
Je continue mes créations sur les Projects Life. Aujourd'hui je sors 4 packs de templates « Every Day Life Templates » pour vos projets. Ils ont été créé avec des coins arrondis sur les bords et dans le centre ce sont des angles droits. Chaque pack contient 11 templates et il suffit d'y insérer vos photos, journaling cards et/ou papiers et votre page est faite. Vous les trouverez dès aujourd'hui dans ma boutique chez Digital-Créa. Je vous propose également un bundle de mes 4 packs de templates à un prix réduit. Profitez en car la promo ne dure que quelques jours.

I'm very happy and my morale is much better! The sun, I would say « Spring » has finally arrived home and it makes a lot of good. I hope like me you enjoyed this beautiful sunny Sunday!
I continue my work on Project Life. Today I release 4 packs of templates « Every Day Life Templates » for your projects. They were created with rounded corners on the edges and in the center they are right angles. Each pack contains 11 templates and simply insert your photos, journaling cards and / or paper and your page is done. You can find them in my store today at Digital Crea. I also propose you a bundle of my 4 packs of templates at a reduced price. Take this opportunity because the sale lasts only a few days.


EVERY DAY LIFE TEMPLATES [BUNDLE NO1]
Et je remercie encore une fois le travail de mon équipe créative !
Here you will find inspiration in the gorgeous layouts of my creative team !
Je reviendrai demain vous montrer mes pages avec mes templates (si ça vous intéresse ! Car je n'ai plus aucun commentaires sur mon blog donc j'ai l'impression de publier pour rien….).
I'll be back tomorrow to show you my pages with my templates (if you're interested, for I have no more comments on my blog so I feel I publish for nothing ….).