Vous adorez le chocolat? Oui, alors ce kit est pour vous ! J'adore le chocolat et j'ai eu envie de créér un kit sur le chocolat. Vous trouverez ce kit à $2.00 durant tout le weekend. Si vous achetez pour $10.00 ou plus dans ma boutique vous recevrez ce kit GRATUITEMENT.

Are you also a chocolate addict ? Yes, so this kit is for you! I love chocolate and I've made a kit around chocolate. You will find this kit at only $ 2.00 during the weekend. And if you spend for $10.00 or more in my shop, you will receive this kit for FREE.
Et voici quelques pages de mon équipe ainsi que de l'équipe créative the PBP !

Some wonderful layouts of my team and also of the PBP creative team !
Bonne journée!
Have a good day !
Le printemps est bel et bien présent maintenant. Le jardin est entièrement fleuri et j'adore cette période avec toutes ces couleurs. Aujourd'hui, je vous propose 3 nouveaux produits dans ma boutique The Lilypad. Des produits sur le temps du printemps. Vous avez le choix entre un pack de papiers, un pack de boutons et un pack de wordarts. Et si vous les aimez tous les 3, courez les acheter.
Spring is here and really there now. The garden is full of flowers and I love this time with all these colors. Today, you will found 3 new products in my shop at The Lilypad. Products in the spring time. You can choose between a pack of paper, a pack of buttons and a pack wordarts. And if you like all my products, buy them all !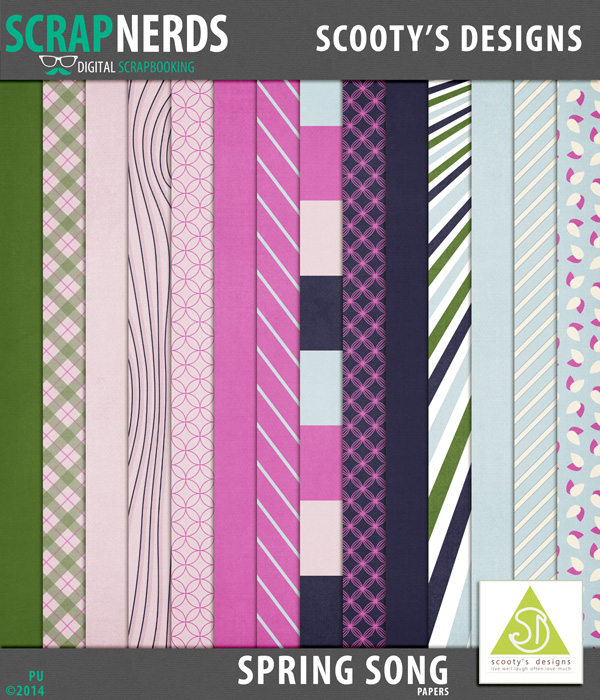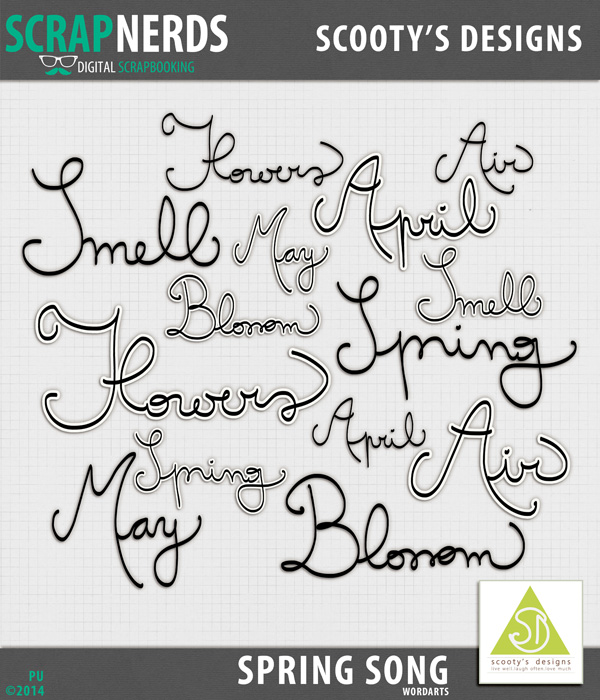 Mon équipe à fait un superbe travail avec mes produits ainsi que la CT de The Lilypad !

My team did a great job with my products as well as the CT of The Lilypad!


And a layout I've made.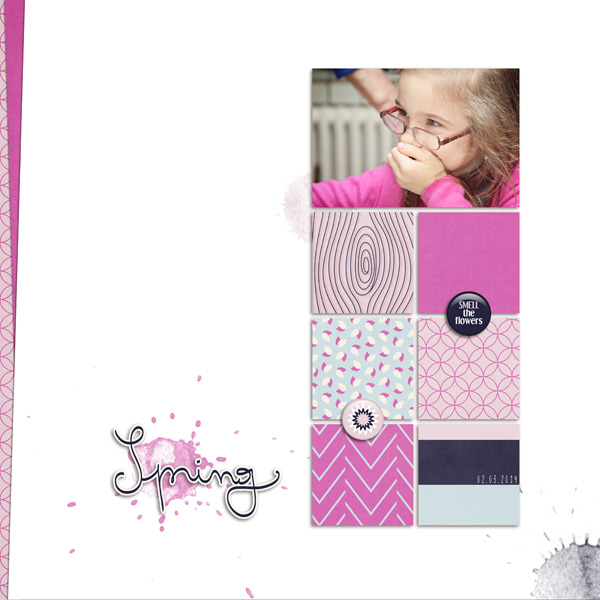 Excellente journée!
Have a good day !
THE LILYPAD ! Et oui, ce mois-ci je suis l'invitée dans une grande boutique que j'apprécie énormement. J'ai accepté cette proposition qui me tenait à coeur et je ne pouvais pas refuser. Vous y trouver tout au long de ce mois d'avril des nouveautés dans ma boutique.
Aujourd'hui, retrouvez déjà 3 nouveaux produits pour le BYOC ! Un ensemble de papiers, d'éléments et de journaling cards sur un thème qui me colle parfaitement en ce moment « Recharged ». J'ai vraiment besoin de recharger mes batteries, je suis complètement fatiguée. Heureusement que le soleil est là pour mon plus grand bien !
THE LILYPAD! Yes, it' me, this month's guest in this great shop that I appreciate hugely. I accepted this proposal, which was close to my heart and I could not refuse. You will find throughout this month of April new things in my shop.
Today, you will already find 3 new products for the BYOC! A set of papers, elements and journaling cards on a theme that fits me perfectly right now « Recharged ». I really need to recharge my batteries, I'm completely exhausted. Fortunately, the sun is there for my highest good!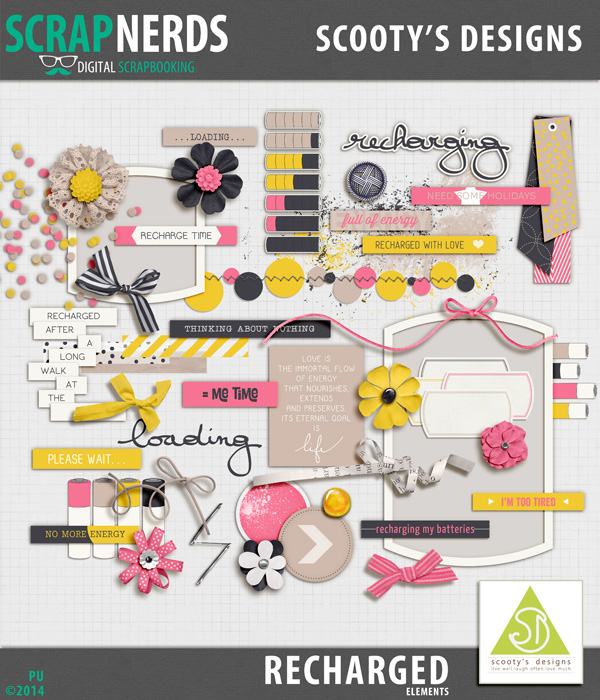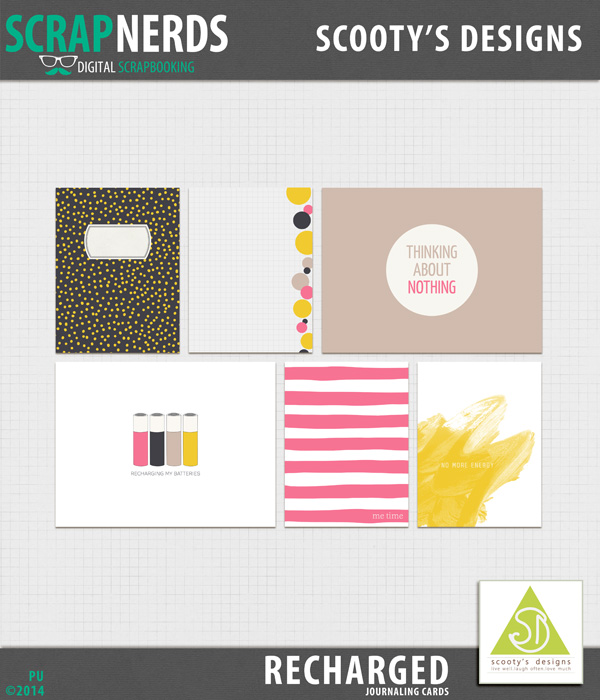 Et pour celles qui sont inscrites à ma newsletter, je vous propose une superbe offre à ne pas râter ! Dépêchez-vous de vous inscrire afin de recevoir l'offre dès ce soir.

And for those who are registered to my newsletter, I offer a superb offer should not miss! Hurry up to subscribe to my newsletter so you will receive it this evening.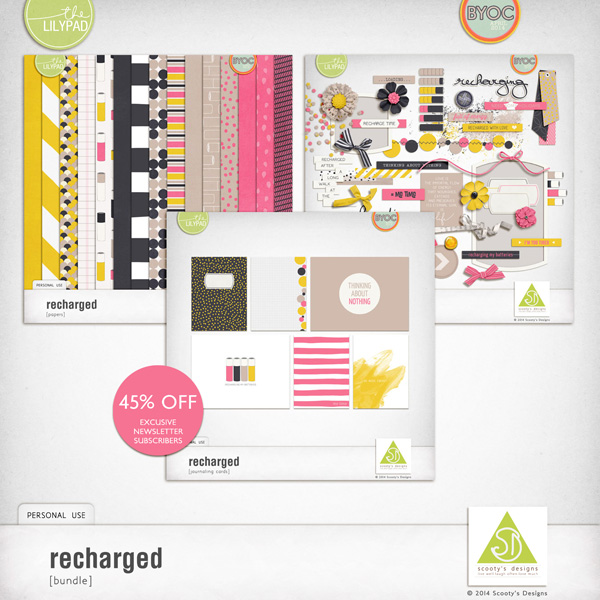 Mon équipe à fait un superbe travail avec mes produits ainsi que la CT de The Lilypad !

My team did a great job with my products as well as the CT of The Lilypad!

J'ai tellement adoré travailler avec ces couleurs que j'ai eu envie et le temps de faire une petite page.
I was so in love to work with these colours that I wanted to make a layout.
Bonne journée!
Have a good day !
Avec le printemps qui est enfin arrivé, je me suis remise un peu à la création. Voici mes 3 nouvelles créations avec des couleurs très printanières. Il s'agit d'un pack de papiers, un pack d'éléments et un pack de journaling cards. Vous y trouverez tout ce dont vous avez besoin pour faire de belles pages de vos ptits bouts en train de récolter les oeufs de Pâques! Durant quelques jours, les packs sont à $ 1.00 pièce !!!

The spring has finally arrived, and I begin again a little of creativity. Here are my 3 new products with spring colors. There is a paper pack, an element pack and a pack of journaling cards. You will find everything you need to make beautiful layouts of your little childrens hunting the Easter eggs! For a few days, each pack is at ONLY $ 1.00!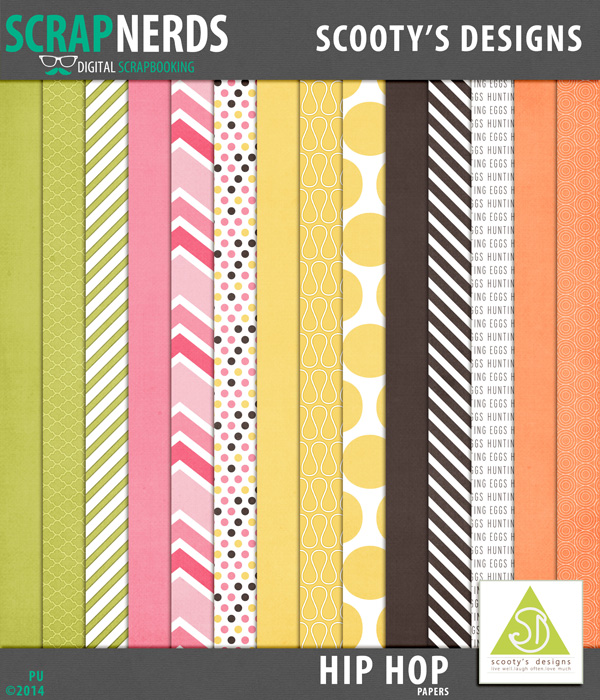 Le travail de ma super équipe !

Wonderful work of my team !

Et cela faisait bien longtemps que je n'avais pas fait une page de scrap.
It was a long time since I have made a layout.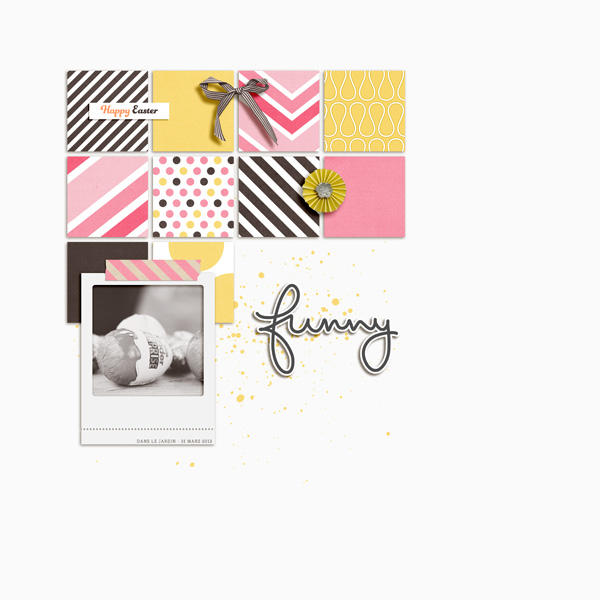 Bonne journée!
Have a good day !
Le grand JOUR est arrivé ! Je suis très heureuse de vous annoncer que je rejoins l'équipe des designeuses de Pickleberrypop. Pour cette grande ouverture, je vous propose une partie de mes produits à -35%. Je n'ai pas encore tout transféré et je ferai cela petit à petit. Bon shopping à tout le monde !
The big day has arrived! I am very happy to announce that I join the team of the designers at Pickleberrypop. For my grand opening, I have a storewide sale with 35% off. I have not transferred all my products and I will do this gradually. Happy shopping everyone!

Scooty.
Bonjour à toutes et à tous,
Je n'ai pas été beaucoup présente ces dernières semaines mais je préparais un nouveau projet.
Comme certaines ont pu le remarquer, ma boutique n'est plus active sur Digital-Créa. Après quelques années, j'ai décidé de prendre un nouveau chemin. Vous retrouverez très prochainement mon nouveau « chez moi ».
A très bientôt.
Hello to you all,
I haven't been much available this past few weeks but I was preparing a new project.
As some many have noticed, my shop is no longer active at Digital-Crea. After a few years, I decided to take a new path. You will find my new « home » very soon.
See you later.
Je vous souhaite à toutes et à tous une très belle année 2014 !  J'espère quelle sera remplie de joie, d'amour et d'une excellente santé !
Pour ce début d'année, je vous ai créé de nouveaux produits. Il s'agit de produits pour vos projects life, qui sont de plus en plus nombreux sur la toile ! Vous trouverez dans ma boutique un pack de templates, un pack de papiers et 3 pack de journaling cards. Ils sont actuellement à 1.20 € pièce donc profitez en !
I wish you all a happy new year 2014! And I hope it will be filled with joy, love and good health!For this new year, I created for you new products. These are products for your projects life, which are more numerous on the web! In my shop you will find a pack of templates, a pack of papers and 3 packs of journaling cards. They are currently at 1.20 € only so enjoy

Bonne journée!
Have a good day !
J'espère que vous avez passé un joyeux Noël ! Même s'il ne neige pas et qu'il fait plutôt pluvieux et venteux, c'est tout de même une période agréable où on passe des moments en famille ! Durant cette période, je profite de mes enfants et je passe beaucoup de temps avec eux.
Aujourd'hui, c'est un jour particulier car c'est mon anniversaire, une drôle de période car il passe généralement inaperçu… Pour cela, j'ai décidé de faire une promotion sur une grade partie de mes produits. Vous trouverez certains produits avec 40% de réduction. Cette promo dure du 30 décembre au 1er janvier inclus. Bon achat à vous toutes !
I hope you have had a merry Christmas! Even if it does not snow and rather rainy and windy, it's still a nice time to spend moments with our family! During this period, I enjoy spending time with my children and play with them.

Today is a special day because it is my birthday, a funny time because it usually goes unnoticed … For this, I decided to make a promotion on some of my products. You will find products with 40% discount. This promotion lasts from December 30 to January 1 inclusive. Good shopping to you all!