Hello everybody,
I've decided to change my designer name at the same time to open my new shop.
Scooty's Designs becomes MEG Designs


You can follow me now here (at my fresh new blog) : www.megdesigns.be and on my new facebook fanpage.
Bonjour tout le monde,
J'ai décidé de changer de nom de designeuse en même temps que l'ouverture de ma nouvelle boutique.

Scooty's Designs devient MEG Designs
Vous pouvez me suivre maintenant sur mon tout nouveau blog: www.megdesigns.be et sur ma nouvelle page Facebook.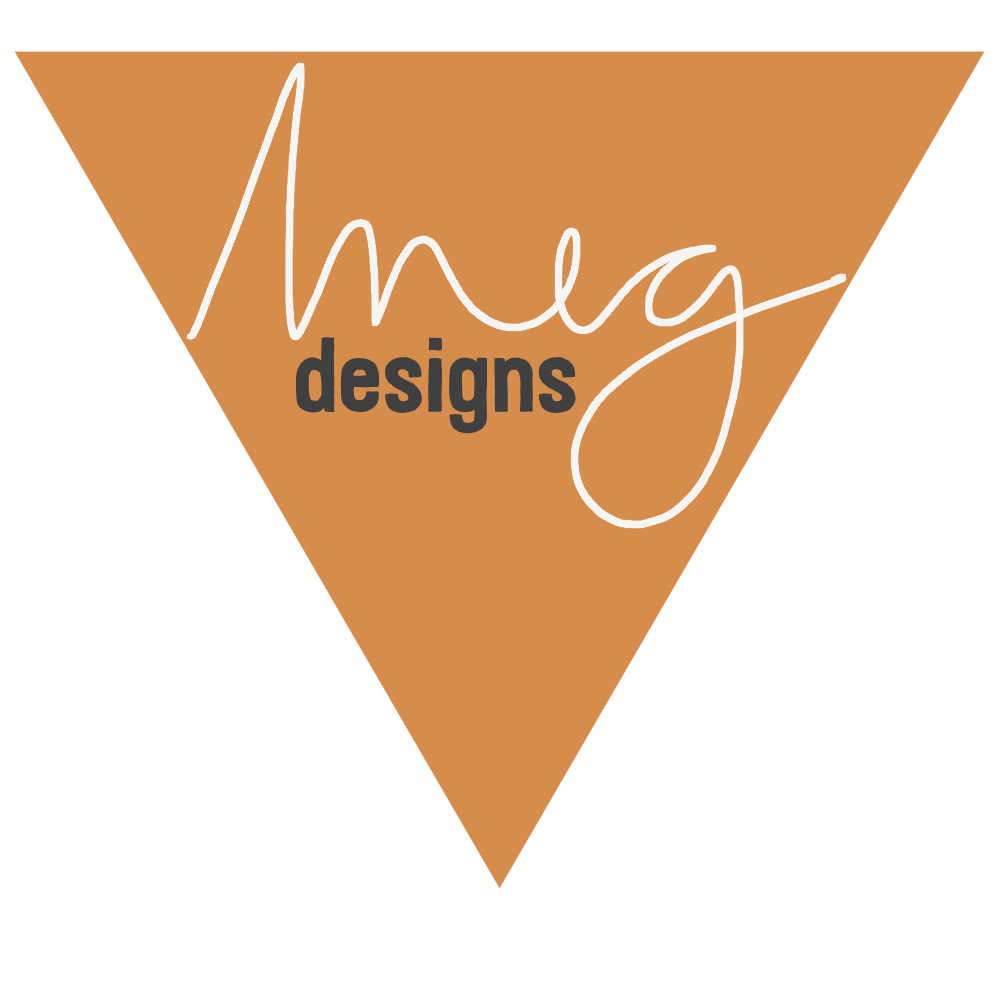 Coucou ! C'est Sandrine – aussi connue sous le nom de Pheeebzzz dans la digisphère – qui prend le clavier aujourd'hui pour vous présenter une nouveauté sur le blog : un challenge template mensuel, proposé tour à tour par les membres de l'équipe créative de Scooty's Designs.
Pour participer et tenter de gagner un coupon de 10$ valable dans la boutique de Scooty's Designs, parce qu'un challenge c'est mieux avec un prix à remporter, c'est tout simple :
- il suffit de télécharger le template (voir ci-dessous, après la partie en anglais),
- de faire une page avec en utilisant 100% des produits de Scooty's Designs (freebies acceptés),
- de mettre la page en ligne dans la galerie de Scooty's Designs chez Pixels and Company et…
- de laisser un commentaire ici avec le lien vers votre page.
Tout ça avant le 30/11.
Les membres de l'équipe créative voteront ensuite pour leur page préférée et la gagnante (ou le gagnant… sait-on jamais

!) remportera un coupon pour faire un peu de shopping dans la boutique.
Plutôt sympa, non ? Alors à vos claviers et souris, nous attendons vos pages !

Hi ! Sandrine here – aka Pheeebzzz around the digisphere – to present you a brand new feature on the blog : a monthly template challenge, hosted in turn by each member of Scooty's Designs's Creative Team.
Participation is fairly simple and can lead to winning a $10 coupon to Scooty's Designs's store for a challenge is even better if there's a prize to be won :
– all you have to do is download the template (see below),
– make a page with it using 100% of Scooty's Designs products (freebies accepted),
– upload said page to Scooty's Designs's gallery over at Pixels and Company and
– leave a comment here with a link to your page.
The deadline for submiting a page is 11/30.
The members of the Creative Team will then vote for their favourite layout and pick a winner. She (or he, who knows

!) will then have a coupon  to spend shopping in the store.
Pretty nice, right ? So hurry to your keyboards & mouses, we're expecting your pages  !
Oh, et si jamais vous aviez envie d'un peu d'inspiration, voici quelques pages faites par l'Equipe Créative avec ce template.
Oh, and if you need some inspiration, here are a few pages that the Creative Team members made using this Template.
Hello,
It's already time again for the Digital Scrapbooking Day. Yeah !
When we think DSD, you immediately think interesting sales, bloghop, freebies…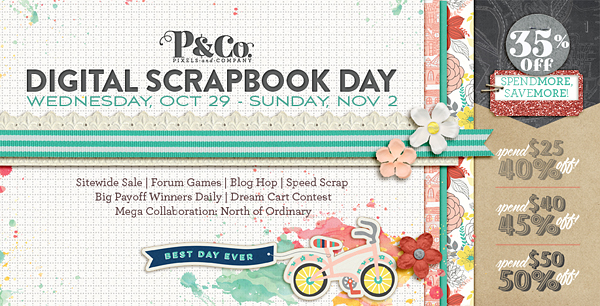 I'm happy to be part this year for Pixels and Company bloghop.
But before we go to the blog hop, I show you the first letter, let me show you some tips to gain some time when you are scrapping.
I love using actions because something you can really lose a lot of time by right click or going to different menus.
So it's really simple to create an action (in Photoshop) for example to create a clipping mask.
First step is to go to the actions and click on « new action ».
Give a name to your action, and choose a function key (this will helps you to win a lot of time) and then press « record » !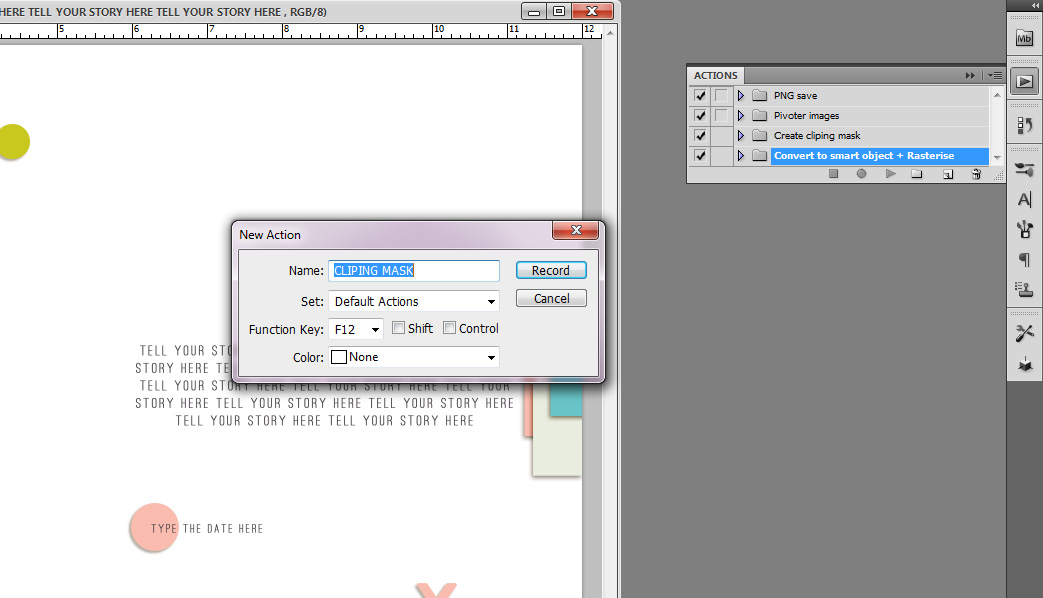 Right click on the picture you want to create a clipping mask. And after click on « stop » in the actions.
Your action is ready to be used.
For example, insert now a paper in your layout and press the function key you choose for your action. I have chosen the « F12″. You will see that your paper is immediately clipped on the layer below.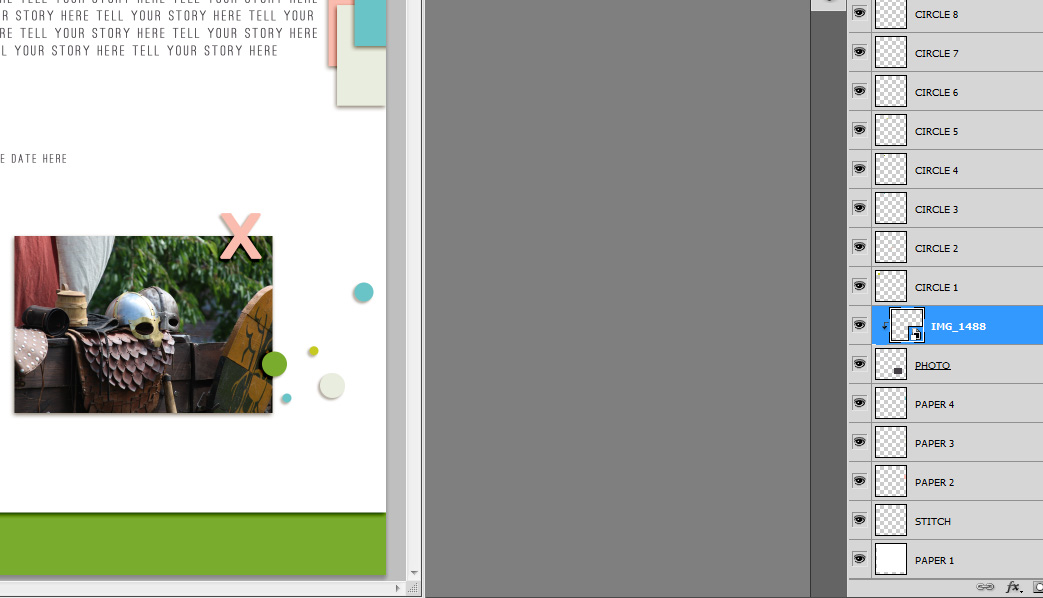 And really helpfull and easy when you have a lot of papers, photos to clip on a layer.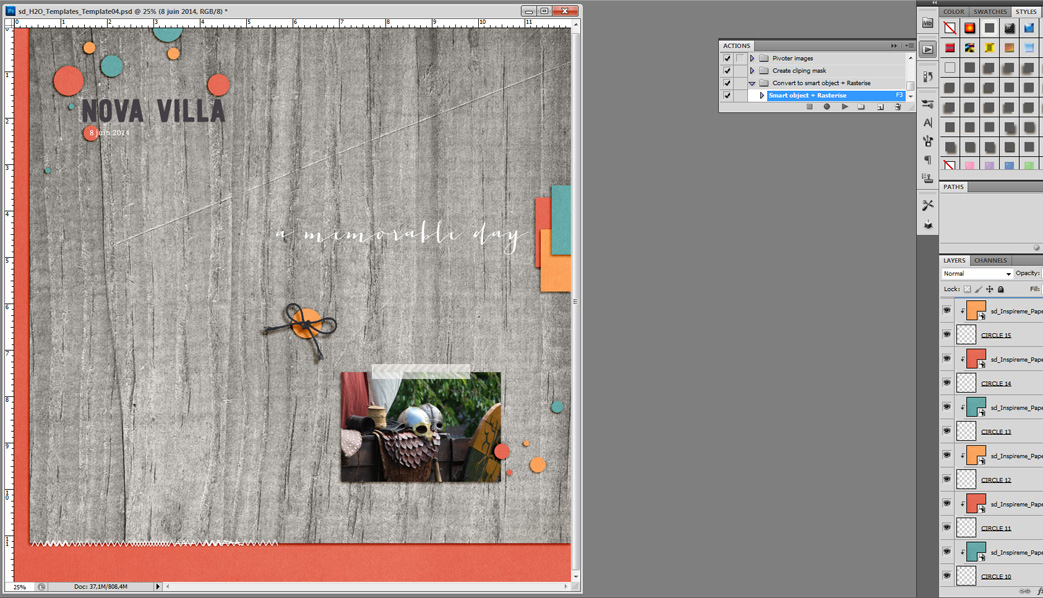 Hope this little tutorial will helps you to gain some time when you are scrapping.
And now, it's time for the bloghop.
Here is the huge collaboration kit of the bloghop.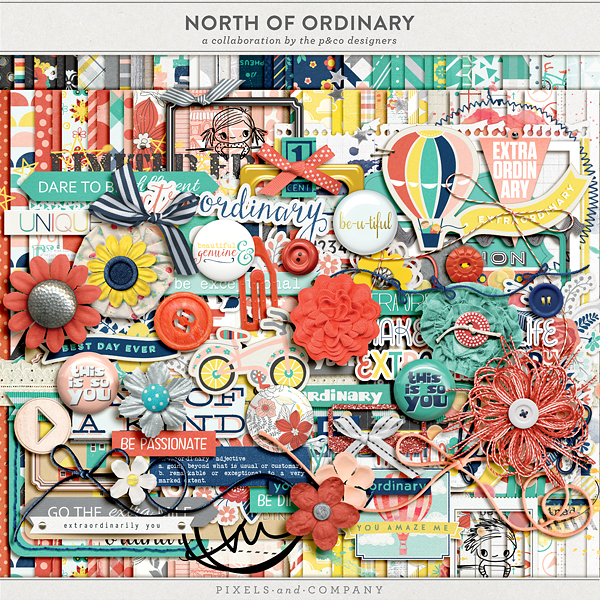 And my part.


To get this free huge and wonderful collaboration, it's simple.
Follow the bloghop to collect a total of 20 letters. After, go to the shop, ad the collaboration to your shopping cart and use the 20 letters as coupon code. And then, you get it !
And finally, here is my letter.
Here is the blog hop list of all the participants if you get lost.
P&Co
Scooty's Designs <– YOU ARE HERE 

Amanda Yi Designs
Mari Koegelenberg
Dawn Farias
Digital Scrapbook Ingredients
creashens
Sabrina's Creations
Scotty Girl Design
KimB's Designs
Celeste Knight
Jen Allyson
Mommyish
Sugarplum Paperie
Kelleigh Ratzlaff Designs
Robyn Meierotto
Wishing Well Creations by Laura Passage
Anita Designs
Deena Rutter
Karla Dudley
Gennifer Bursett
And now, go to your next stop at Amanda Yi Designs !!
Hope you will have fun with this blog hop ! And enjoy the sales !
Je suis vraiment super content de revenir et d'avoir trouvé une nouvelle boutique en tant que guest. Et il s'agit de la superbe boutique, P&Co (Pixels and Company) ! J'étais ravie de recevoir une réponse de Gennifer ! C'est une réelle opportunité pour moi.
Les derniers mois ont été un peu désastreuse pour moi dans le monde du Digi. Mais maintenant, c'est du passé et une nouvelle porte c'est ouverte à moi !
Pour ma grande ouverture chez P&Co, je vous propose des superbes réductions dans toute ma boutique. Tous mes produits sont à -35% pendant une semaine. Profitez-en !

I'm very happy to come back and to have find a new shop as guest for my products. I was so happy to receive an happy answer from Gennifer ! It's a real opportunity for me.
The last months were so sad for me in the digiland. But now, this is over and a new door has open its doors for me…
For my grand opening I have a huge sale on my shop. You will find all my products 35% off during a week. Enjoy this sale !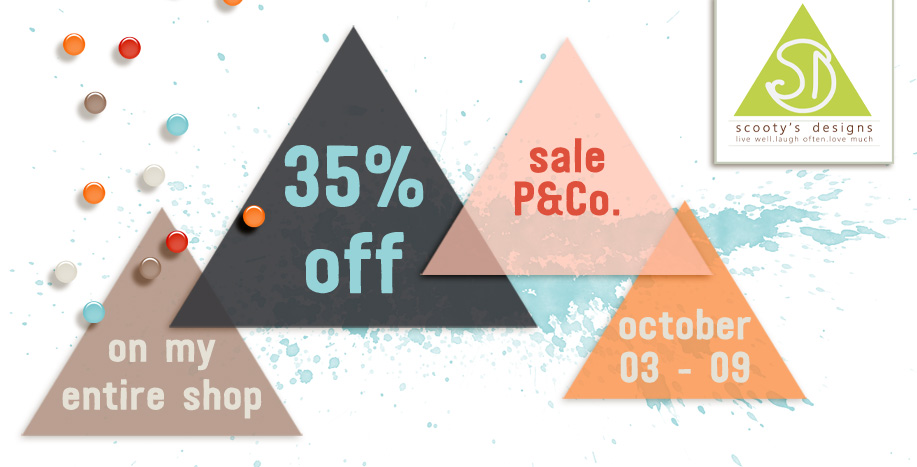 J'ai également créé 2 nouveaux produits avec les couleurs du Company Stash. Il s'agit d'un pack de papiers et d'un pack d'éléments. Mes produits « Inspire me » sont sur le thème de la créativité.
I also have created 2 new products with the colours of the Company Stash. I have in my shop a pack of papers and an pack of elements. These products called « Inspire me » are around the theme of creativity.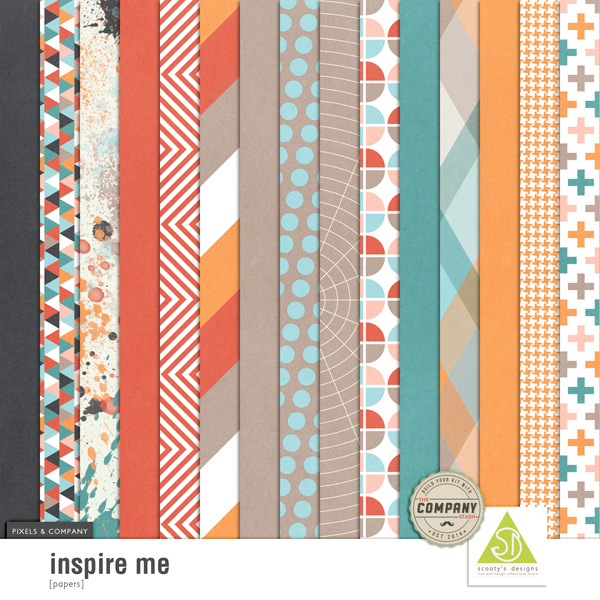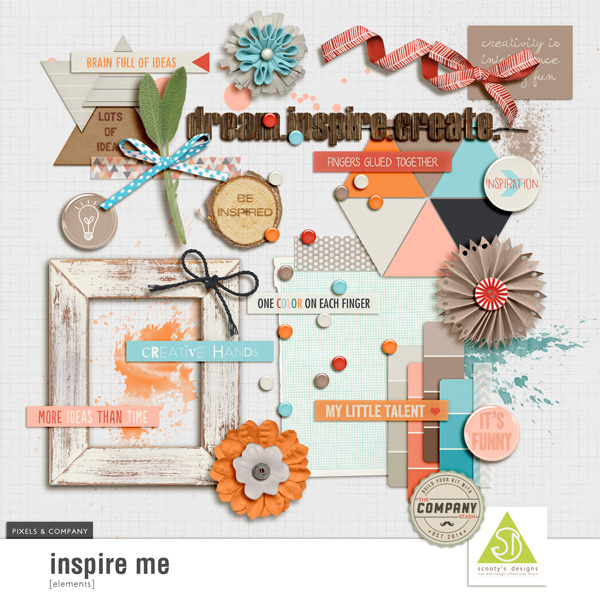 Et comme toujours, un tout grand merci à ma superbe équipe créative !
And as always, thanks to ma gorgeous creative team!
Bon weekend !
Have a nice weekend!
Scooty
xxx
C'est à nouveau l'heure des Nerd Bytes. Cette fois-ci j'ai créé 4 nouveau produits sur le thyème de l'eau. Vous trouverez dans ma boutique 2 pack de papers, un pack d'éléments et un pack de templates. Tous ces produits sont en promo à $1.00 durant toute la semaine des Nerd Bytes !
Et n'oubliez pas de venir sur le forum The Scrap Nerds pour participer aux differents challenges. Vous pouvez remporter de superbes prix chaque mois.

It's already time for the Nerd Bytes. This time I've made 4 new products all around the theme of « Water ». You will find in my shop 2 packs of papers, a pack of elements and a pack of templates. All these products are during the Nerd Bytes week on sale at only $1.00.
And don't forget to go to the forum at
The Scrap Nerds
to play with the different challenges. There are a lot of prices to win every month.
Some wonderful layouts of my gorgeous team and also some hybrid projects !
Bon début de weekend !
Have a nice begin of weekend!
Scooty
xxx
Hello,
Summer is almost over since 2 weeks and we have now a lot a sun here. A have a lot of good news for you.
My new store is now open at The Scrap Nerd and we have a huge storewide sale for it. You can find all my products with 40% off until the end of July !!! All my products will be now only available at The Scrap Nerd.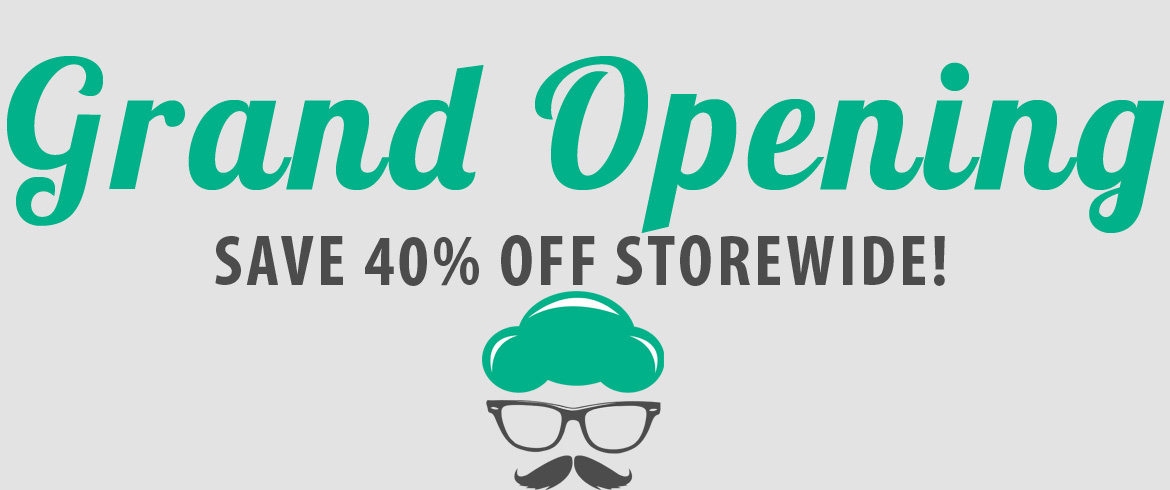 And it's not all, I have 3 new products in the shop.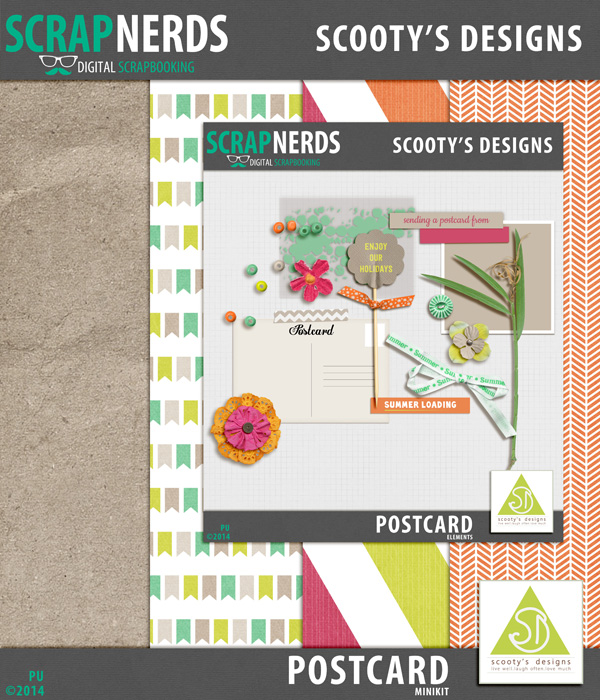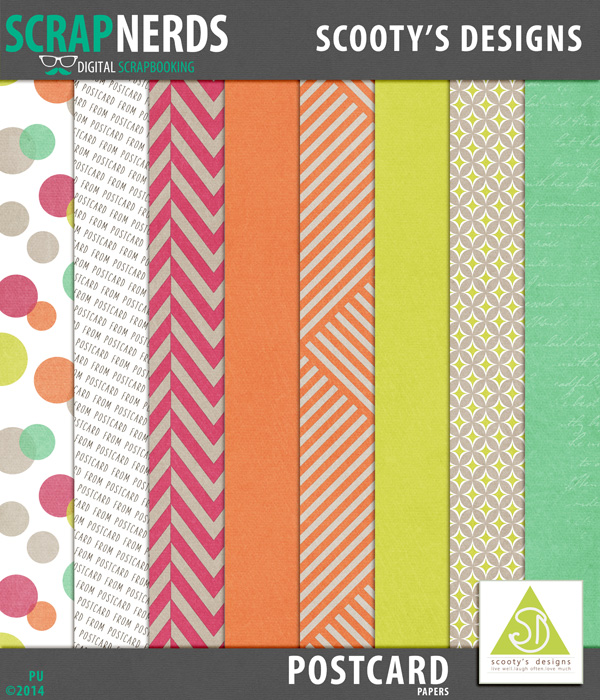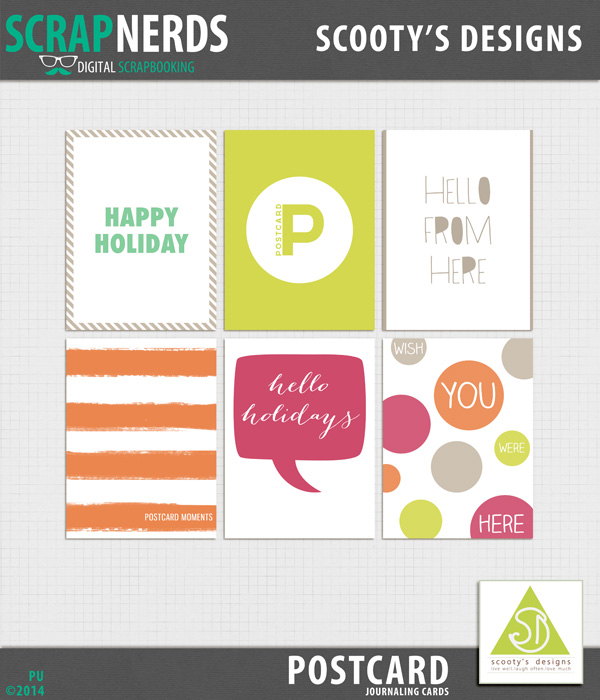 And here some inspiration from my gorgeous creative team ! Thanks girls !
Have a nice and sunny weekend !
Les vacances arrivent à grand pas pour la plupart des gens sauf pour moi car je dois attendre fin août…. mais bon ce n'est pas pour cela que je n'ai pas eu envie de faire des produits spécialement pour les vacances…. J'ai créé quelque chose de différent, des produits sur le camping et la randonnée. Vous les trouverez au prix de $ 1.00 jusque lundi dans
ma boutique
. Profitez-en !

The holidays are coming to big step for most people except for me because I have to wait for the end of August …. but that's not why I didn't want to make products specifically for the holidays. I created something different, products of camping and hiking. You will find them at the price of $ 1.00 until Monday in my shop. Enjoy it!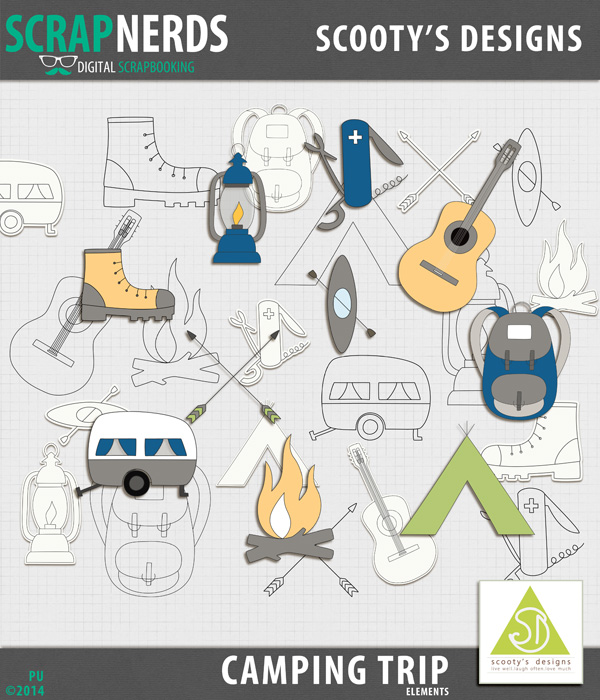 Et voici quelques pages de ma superbe nouvelle équipe avec des projets hybrids !
Some wonderful layouts of my gorgeous new team and also some hybrid projects !
Bon début de weekend !
Have a nice begin of weekend!
Coucou,
Vous vous souvenez de mes produits lorsque j'étais Guest chez The Lilypad ? Retrouvez-le dès maintenant dans
ma boutique
. Et si vous n'aviez pas eu le temps de les acheter, il n'est pas trop tard…. Ils sont en promo tout le weekend ! Venez vite faire un petit saut dans ma boutique avant de retourner profiter du soleil !

Hello there,
You remember my products when I was Guest at The Lilypad? Find them now in my shop. And if you had not had time to buy, it is not too late …. They are on sall all the weekend! Come and make a small jump in my shop before returning to enjoy the sun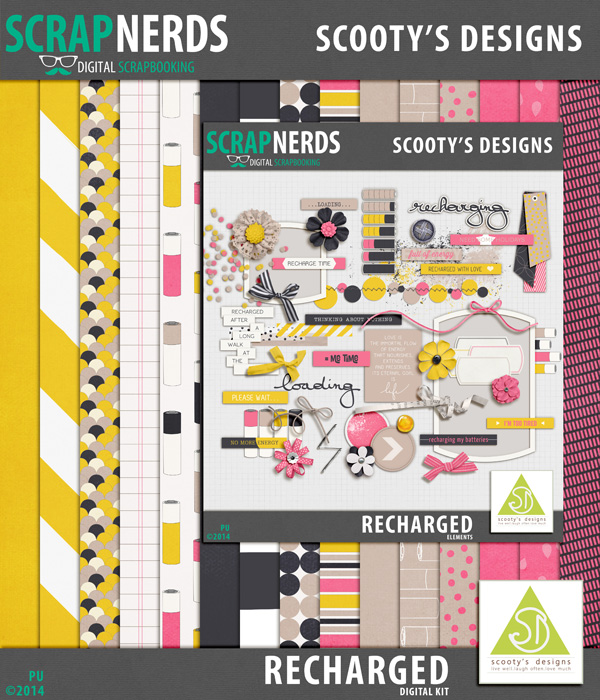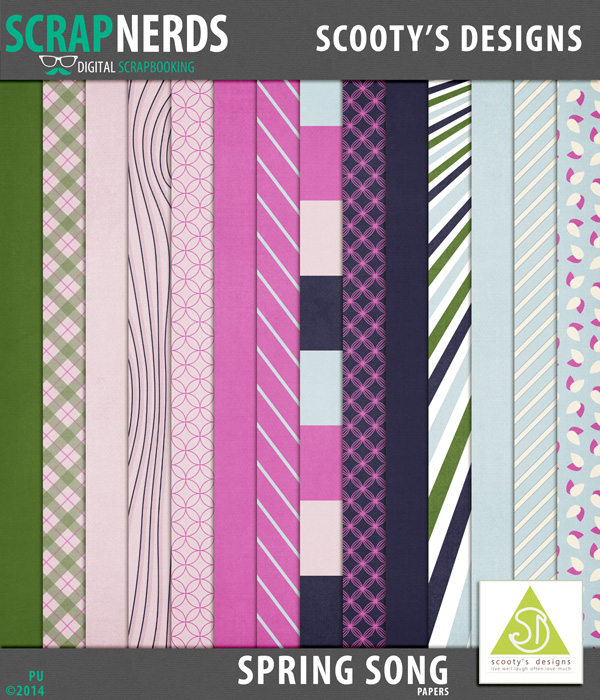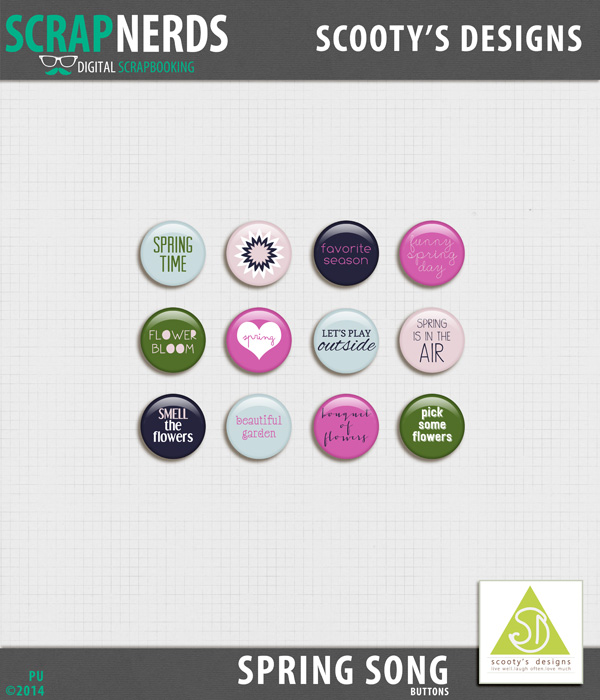 Et voici quelques pages de ma superbe nouvelle équipe !
Some wonderful layouts of my gorgeous new team !
Bon weekend!
Have a nice and sunny weekend!
It's freebie time, enjoy !!
Here is my freebie for you.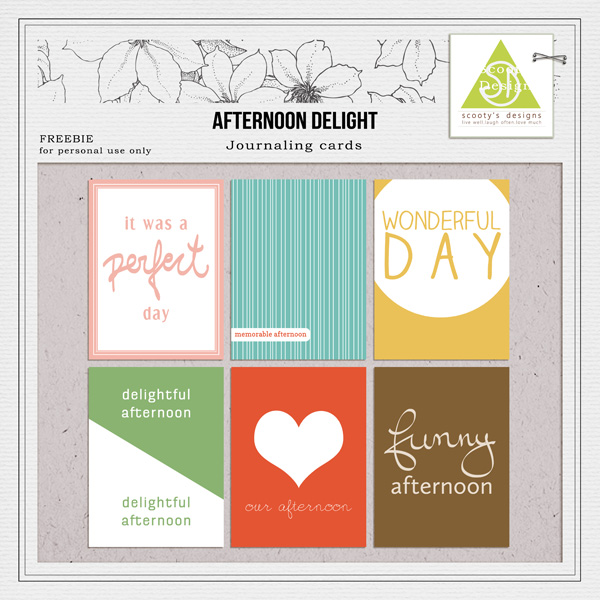 If you followed the bloghop from start to finish, you should have arrived here from « TORI » blog and your next stop will be at « JEN » blog.
If you get lost click here to check out Anita's website to get back on track !
I hope you enjoy this freebie, goodluck and enjoy all the other freebies.
Scooty.
Yeah, you see well ! I'm having a CT call ! If you are interested, send my an e-mail or fill this form in.